Soundbars are cost-effective and make a big difference when attached to your TVs. Our 5 best soundbars for voice clarity are a great source of listening to clear dialogues, music, and entertaining games.
Also, they are programmed in a way to tune in voice frequency and deliver it with a perfect pitch. These soundbars are an update for your typical TV speakers, getting yourself immersed in your favorite entertaining channels, TV series, and president's speeches.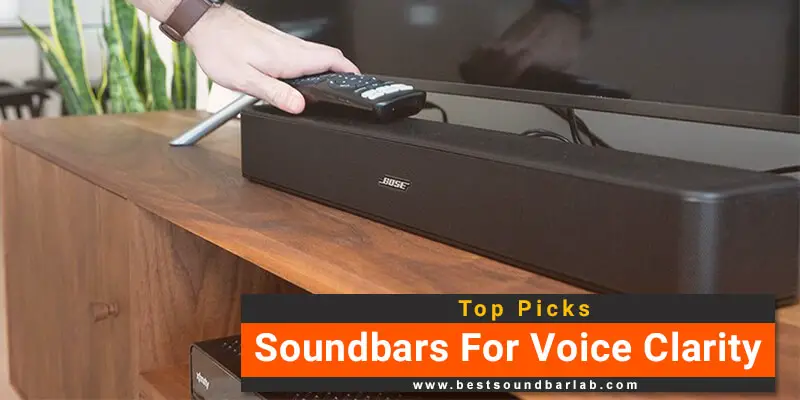 Today, in this article, we will discuss these recommended 5 best soundbars for voice clarity in detail, you will learn about their specifications and features, pros and cons, and much more.
These soundbars are also great in enhancing your listening experiences, you can listen to different audiobooks and podcasts. They are perfect for setting-up murmuring voices into clear and understanding dialogues.
Some of these have features to make dialogues clearer at even low volume. These soundbars are worth your hard-earned money, you can set up them for your preferred media, and if you are willing to throw subwoofers into some of these best soundbar systems, this will change your living room into a full home theatre with richness, and depth of content that you have never felt before in your home.
Let's move on to the most exciting part of the article which will help you decide your preference.
Top 5 Best Soundbars For Voice Clarity
Market leader, Sonos Beam is the best you can get for your entire family. This soundbar is a perfect match with your Fire TV as it is assisted with built-in Alexa and Google Assistant.
Reasons To Buy
Built-in Alex
Easy Setup
Can be used for home theatre with subwoofers and rare speakers.
It is a hub of online streaming services such as Spotify, Deezer, Pandora, and many other options. You can also have access to the Sonos app to stream your preferred media.
Another surprising thing we've found out is that it can collectively turn your living room into a home theatre with a wireless subwoofer and rear speakers, but standalone is also a great deal itself.
What is more exciting than it has quite a perfect sound quality on its size. It has a separate dedicated dialogue enhancement feature for clearing out dialogue and making them easily understandable. Indeed, Beam is not equipped with audio tech content such as Dolby Atmos or DTS Virtual:X, which lacks an immersive listening experience, but is still a big blast in a small package.
Design
Sonos Beam is designed in a flattened, elongated shape. It is very much smaller than most soundbars. This smaller in size soundbar is touch-sensitive, it lets you play, pause, skip songs, and adjust the volume. The LED light on the soundbar shows its current status.
Final Views
Sonos Beam is overall a small but powered soundbar. Unfortunately, it is made with a policy that you can have better sound quality over Wifi, so it lacks Bluetooth. This soundbar does not support DTS technology. Safe to say that it is the best soundbar for clear dialogues and a small-package soundbar system for your entertainment with multiroom audio functionality. For more information, visit Amazon to clear your thoughts on this soundbar.
The Second pick from our list is ZVOX AV200, designed to help people listen to dialogues better. Its patented AccVoice technology enhances the quality of spoken dialogues in your favorite TV Shows by recording the digital signals without affecting background sound, making it straight from real life.
Reasons To Buy
90% enhancement in TV hearing
target marketing hearing impaired individuals
Easy to install and set up
Reasons To Avoid
No HDMI
No Bluetooth or Wi-Fi connectivity
As said, the soundbar is made especially to target market hearing-impaired individuals, so you can also take most of the advantage from it.
ZVOX's comes with headphones and headphones channeled with AccuVoice. Unlike other soundbars, It doesn't change the surround sound when using a dialogue enhancement feature. It is best that there are two AccuVoice settings—AC1 for normal enhancement in voice clarity, and AC2 ultra-boost for next-level ultra-clear voices.
Design
AccuVoice AV200 is designed on the front with a speaker grille that goes from one end to the other. Three full-range speakers can be seen from the front, and it has a hanging sloth at the back to wall-mount the soundbar. It has four input jacks for different devices to attach with.
Final Views
AccuVoice AV200 is the best addition to your TV with its smaller size but better audio tech. This mini soundbar performs better than advertised. Its remote is capable of synching with your TV remote and works perfectly fine on default settings. This soundbar is worth every penny. Visit Amazon for more information about ZVOX's soundbar.
This slim soundbar, Yamaha YAS-207 is a popular choice on the internet. It brings the best key features such as wireless subwoofers for rich bass sound to turn your home into a cinema theatre.
Reasons To Buy
DTS Virtual:X technology
wireless subwoofer for deep bass sound
2- year warranty from the company
Reasons To Avoid
No Wi-Fi or Ethernet connectivity
HDMI handling issues
Another specification is it comes with DTS Virtual:X, a 3-D sound technology for better speech or voice quality.
Stating it as an ordinary soundbar would be an insult to its features, for it gives an immersive experience with the surround sound. This is a better match to get rid of horrible audios straight from your TV, channeling it to watch your fav movies and TV programs without any distortion is the real deal.
It is a best-sounding soundbar for ideal use. Yamaha's is channeled with 4K- accessible HDMI input/output, Bluetooth, an analog, and an optical digital port.
 Design
Along with many upgrades from its predecessors, The YAS-207 has also changed its design. From the front, it has pulled the game of faux leather plastic and cloth grill as if it is a piece of furniture in your living room. The soundbar does not provide an on-screen display on the TV, but it has touch-sensitive features on the front, and a sensible LED light to tell the soundbar's status.
Final Views
Yamaha YAS-207BL is on our list for being budget-friendly and featuring dialogue review as its best option. The firmware updates are easily available, you can use the USB port for that. Be aware of the LED light not turning blue when pressing the "Surround" button, you need to update the device. This slim set of soundbars comes with unlimited setup options. For further details, visit Amazon for pricing and buyer's reviews.
Ultra-slim and sleek model soundbar Yamaha YAS107BL provides a clear and dynamic sound.
Reasons To Buy
DTS Virtual:X technology
Built-in subwoofers for deep bass sound
 option for output subs
Reasons To Avoid
No Wi-Fi or Ethernet connectivity
HDMI handling issues
As Smart TVs are getting thinner day by day, their built-in speakers are offering bad or low sound quality; this soundbar offers Clear Voice mode, essentially for narrations and dialogues to be manipulated in digital signals and then an enhancement in speech is clearly felt.
Yamaha's soundbar is equipped with two built-in subwoofers to give you an experience of home theatre. It provides maximum sound quality even at a lower volume. The DTS Virtual 3D sound technology is ideal for voice clarity and other multichannel content.
YAS-107 can be controlled in three ways. You can control it with your TV's remote, with a soundbar's remote, or through Yamaha's Home Theatre controller app on your mobile devices or tablets. Its own remote is incredibly good, visually good with large button icons and other options' text.
Another good thing is that the power buttons and other input buttons are all in different colors to easily identify. Also, the remote is very closed to a regular TV remote, making it easily accessible for senior citizens. TVs supporting HDMI CEC can be very useful to sync Yamaha's remote functions with the TV remote control via HDMI, but only basic control can be taken, just like volume or power on/off.
Design
The YAS-107 is very easily installable. This soundbar can be set up in two different positions. Whether you like to place it horizontally beside your TV or vertically on the wall. There's another specification that includes a template or rubber space for wall mounting your soundbar. While unboxing the soundbar, you can also find an optical digital cable.
Final Views
Yamaha YAS-107 is very competitive in the market. Its operating screen is very useful to perform tasks while using your smartphone or tablet. This soundbar is an entry-level sound system, it may not be feature-packed but it does include today's additional features. It offers HDMI input/output. Yamaha's package includes different surround-sound modes for TV programs, sports, games, or movies. it comes with a bass extender feature and music enhancer when played on Bluetooth connectivity. For further information, visit Amazon to read one buyer's reviews.
The ZVOX "sound base" is our last pick from the list. This soundbar has gained popularity offering robust sound bass.
Reasons To Buy
Deep and rich bass sound
clear dialogues and speech
more connectivity options
Reasons To Avoid
Unable to separate mix sound elements
It offers a key feature of enhancement in speech frequency which is very essential for people with hearing problems. The voice clarity can be seen properly in action movies as this soundbar is exceeding its way in vocals and bass.
The 570 soundbars are equipped with Bluetooth connectivity to listen to songs, speeches from your smartphone, tablet, or laptop. Yet, it doesn't provide an automatic Bluetooth connection of speakers unlike most of the Bluetooth speakers, but good for those who have no problem reconnecting them manually.
Design
The soundbar is covered with a metallic grill on the front. It is easy to read the soundbar's status in the orange color display behind the grill. You can have control over volume keys, mute buttons, inputs, and analog minijack. The remote of the soundbar is smaller than the size of the regular remote control with different input settings. It has three-step surround control, nine-step treble control, eleven-step bass control, and many more.
Final Views
Zvox SoundBase 570 does not offer a stereo mode, but it is a good choice for tracks and movies. this 5.0 channel soundbar recognizes the Dolby digital decoder and sets the frequency of minimal sounds in the background. They are other options as well as tonal balance. For more information, looks for the buyer's reviews on the Amazon site.
Conclusion
These soundbars are best for voice clarity and reviewed after gathering full knowledge, information, and analyzed data on consumers' comments. They provide outclass voice clarity and retrieve voice frequency on point. If you have already decided to buy from this list of top 5 soundbars, let us know in the comments below. We are waiting for your attention!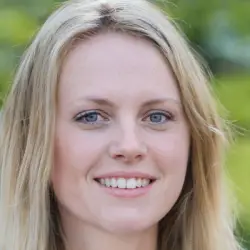 Latest posts by Anita Jones
(see all)